Volume 1, Issue 4.
Celebrating Creativity! 
Here we are at the fourth installment of Zazzle Stores Roundup! Throughout May there was the first  issue of Creative and Chic Zazzle Stores Roundup which was successful, then was  a second issue and then a third!
This issue continues the theme of featuring unique Zazzle stores. One thing to remember is that the Zazzle Market Place is gigantic and because I'm there everyday is becomes second nature to spot what is trendy and what is contemporary.
The products in this issue are, as always, all quality!
As previously mentioned, the Zazzle Market Place is truly marvelous! There is a wide variety of products and a gigantic variety of designers out there creating products you can customize!
I've spent plenty of time researching the market place and along the way, I've found out there are store's that have charming products and have to be shared as a gift guide!
Your Sparkling shop is a store with so many designs. In fact, this amazing store currently has over 43,000+ products! A vast select of themes too, featuring holidays – such as Christmas and Fourth of July, family themed, Quotes, animals and beach related items, just to name a few.
Here is a sample of outstanding products in the store! The first item is very colorful and interesting art!
It's hands with a maps painted on them! The background is a bright and cheery sky.
It's here as a postcard but it could also be art such as tiny poster! and wouldn't that make a cute gift? 
This next design is a fun mix of typography.  Not only does it have the stylish typography element, it has a very meaningful message.  It's : "where life begins and love never ends" .  That will always be comforting.
This mug makes a great gift because you can customize it!   You can change the family name to yours!  
Wouldn't this make a fun and loving gift for the holidays? Remember to include some coffee! 
Continuing with the designs made with love is another design featuring a hand-lettering style. The quote used is : "Love is all we need".
The lettering is in an edgy look.  Add a colorful cardigan to dress it up or a dark grey zip-up hoodie to dress it down.
This tank top would look great going to the gym or yoga class.
Know anyone who might like this as a gift too? 
More items with the classic B&W theme are found in this collection! There are classic designs such as checkered patterns and even more quotes!
Related Articles: 
If you like cute animal cartoons and watercolor designs, NamiBear store is for you! There is a gigantic selection of dog illustrations as well as cat ones along with a perennial favorite: floral themes.  In the store, there are patterns and birthday themes as well!
The first design is an adorable studious Shiba Inu. It's a watercolor design that has excellent realistic shading and composition.
The fur looks really soft! Plus, the eyes are bright and shiny! A well done animal portrait that anyone can enjoy.
Do you know anyone who likes to read and likes dogs?
This personalized case could be the perfect gift! Just add their name! 
This next design is bright and cheery oranges! It's an ideal print for summer or anytime you want to bring in some sunshine into your days.
The print reminds me of Florida! Probably because of the orange groves. What about you?
This is another realistic watercolor look. Each of the oranges has great displays of shading and shininess.There is a variation in the pattern from full oranges to orange slices and leaves.
Plus, the pink background is an adorable addition to the overall design theme.
Do you know anyone who'd love this iPad Air Cover?
Perhaps someone off to college or just about to graduate? This would be cute and perfect!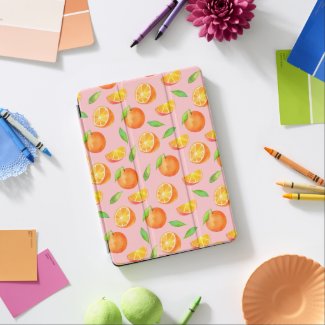 Watercolor Oranges Pattern iPad Air Cover
by NamiBear
This beautiful mug features another watercolor design from NamiBear's store. It's of a rose! It reminds me of a flower from an English Style Garden.
 It's a beautiful design that reminds me of a famous quote about roses: "We can complain because rose bushes have thorns, or rejoice because thorns have roses."
Choose the optimistic one: rejoice!
Do you know anyone who'd enjoy this delightful design? Anyone who is a gardener? Someone who likes pink roses?
This mug would make a great gift. Perhaps instead of coffee, add some Earl Grey Tea! 
There are plenty more options to choose in the following collection. I also like the grey background. It's trendy and very modern. All of the items would make great gifts.
New Posts this Month: 
First Fruits Design is a store that has many wedding suites, such as this rustic calligraphy suite, but many other items that feature monograms, patterns, quotes, nautical themes, Christmas designs and more!
This first design is a fun quote design! It's a mix of typography designs. The quote is ideal and a must for anyone who loves to read!
The quote: "I'd rather be reading" is quite popular. This one stands out because one portion of it is in all capitalized letters that the font is streamline and modern looking. The word "reading" is emphasized in a hand lettering script look.
Do you know anyone in a book club you could gift this t-shirt to?
Pair it with a book or a book mark for a perfect gift combination!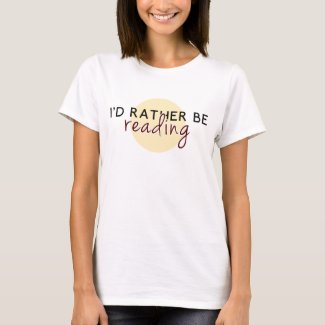 I'd Rather Be Reading – For Book-Lovers T-Shirt
Home decor is also another gift category. This design is a cozy looking pillow with a quote: "Home sweet home".
That is such a wonderful saying and never gets old. The typography is in a modern mix of all capitals and script.
It has a burlap background for a country rustic flair.
Wouldn't this pillow be an ideal housewarming gift?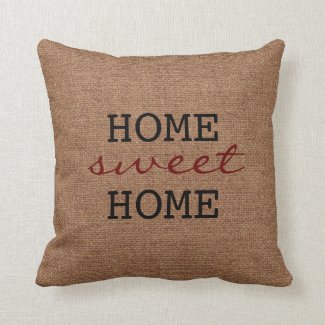 A Rustic Home Sweet Home – Burgundy Faux Burlap Throw Pillow
There is another collection featuring more pillows. It's a different design but the lace continues the country rustic feel as the previous one. There is a rainbow of colors to chose from!
Last but not least is an adorable magnet. It continues the rustic country feel because this too has a burlap background. One side says: "Dog fed: this morning" and the other side says: "Dog Fed: this evening". Keeping things simplified, this magnet can help in streamlining routines.
For a busy household, wouldn't this be great!?
Or do you know someone who just adopted a pet? Wouldn't this be a wonderful and thoughtful gift for them? 
What do you think about these designs and products? It's a preview of the abundance of creativity and product selection available in these stores. Visit them today! Thanks for reading this fourth edition of Creative and Chic Zazzle Stores Roundup.
Here's a quick link  roundup: