Volume 1, Issue 6.
Celebrating Creativity! 
Hi there! Did you notice something different about this  issue? It's actually published a few days earlier than the previous ones!
This is a good issue too!
Every day, I find new Zazzle stores I want to write about and share their products.
It is incredibly fun to share these fabulous designs and meet their amazingly cool Designers along the way when I have the chance!
As for the publishing schedule, let me know if you like this better!
Why create Zazzle Stores Roundups?
Because Zazzle's Market Place is gigantic!
It can be frustrating shopping sometimes because you may not have the time to scroll through pages upon pages to find exactly what you're looking for….
You can search for a particular design but when you get your search results what comes up…well, it's just not your style.
Other times, the variety of choices can be overwhelming and distracting…
Or even, you may not even know what you want until you see and like a design!
What are you going to find in this issue?
Rest assured that th is Zazzle Stores Roundup will be a fun post!
You can save yourself time and find great Zazzle Stores here and could end up finding what you're looking for!
All of the designs here are going to be stylish.
More importantly, you're going to find designs that are:
unique
contemporary
trendy
stunningly chic
charming
cute
artistic
and more!
You may end up surprising yourself and find an extraordinarily cute design you have to get for someone's birthday or for the holidays!
Or you could end up getting a nice gift –  all for yourself – just because!
Let me put my creative, editorial, designing eye to good use!
Remember too, that all the products chosen in this and every roundup here is going to be quality – always!
Here's the Zazzle Store Roundup This Week!
Deb's Digs
This store would be ideal for anyone who loves nautical or summer designs! There are over 5, 000+ to choose from! Not all of it is nautical or summer either!
How about some Art Nouveau? This store has some graceful Art Nouveau designs too!
It is a large selection to chose from and here's a sample of what I found to be cute and summery!
Multicolored Gumdrop Garden Pillow
One of the fun things about this design is right in the product's description:
Where do gumdrops come from? A whimsical answer in a rainbow of pink, red, blue, and green hues. Colorful morsels rise from leafy light green stems om an ecru background. Digitally colored abstract based on a pencil drawing.
That is too cute! Isn't it?
The design is so charming! I love how it's so whimsical it could be part of it's own fantastic garden!
Each of the gum drops float into the air like bubbles!
Wouldn't this make a great accent for outdoor decor? It'd make a great conversation piece!
Seashells Tidal Life Frosted Mug
Here's the perfect summer gift!
It's a batik style – which is the style of using wax-resist dyeing applied to designing- so it has a fun charming artisan look to it.
The blue is a refreshing aqua tone.
Best of all it has three sea shell designs on one mug!
It's just like when you collect shells on the beach – each one is unique!
The quote feature is "Tidal Life" referring to the beach lifestyle.
Wouldn't this be great as a gift from a recent beach vacation spot? It's excellent for that!  Or even just to have it for summer parties! 
Afternoon Boats Rest Tote Bag
This next design is a drawing and watercolor design of boats!
It's a great relaxing summer theme!
Seeing this reminds me of fun summers boating on the lake and having fun with friends.
There is movement in the water and each boat has a different design. Did you notice one of them is actually a canoe?
Don't  you think this would be a fun gift for someone who likes to go boating or canoeing? 
For more summer designs, I'd suggest visiting this collection because there is a wide variety of designs and products!
Popular Posts from Last Month: 
PL Design
A designing duo are designers for this next store. PL Design specializes in sweet 16 designs and invites, the holidays and other occasions.
They also specialize in sparkles!
Everything is so glittery and the quality of the image is spot on!
This store has everything and really cool designs you have to see. Did you know that this store has over 17,000+ designs? There is something for everyone!
Here is a sample of what I found:
Vintage brown beige flowers and birds Monogram Mug
The first design shown is a vintage illustration of flowers and birds! It has a graceful look to it in a quilted pattern.
The soft brown colors in the design's theme gives it an earthy feel and it's a relaxing design.
In the center is an area that is perfect to personalize. Add your name or gift recipient's name and monogram!
That is perfect!
Wouldn't this make a cute gift for someone who's a gardener? 
Personalize Earth Day blue sparkles Globe T-shirt
Here's another Earth Day design for Zazzle Stores Roundup! This one is cute because their take is to have the Earth's oceans waters be of sparkles!
Isn't it a reminder to treat the Earth as a gem? A reminder to take even the littlest gestures of daily recycling or upcycling can make a big impact.
Earth Day is in an elegant cursive script.
Wouldn't this design be wonderful for anyone who loves Earth Day and makes Earth Day everyday? 
If it is Sparkly and Pink I want it Stickers
I mentioned earlier that this store has plenty of sparkly designs and here's just the tip of the iceburg!
But this collection of stickers are so adorable! Some are just of sparkles in various colors (choose your favorite)
This one is sparkles with text!
Do you know anyone who'd say this in your life because it's true? Wouldn't this make a fun gift? 
There are in total 19 adorably sparkly sticker designs in the collection. As you can see from the preview they are really cool! One tip: you could dress up greeting cards or invitations with an extra sticker!
Related Articles: 
Julie Erin Designs
This store features trendy illustrations all done by hand and then digitized! There are many mandala designs to choose from. The store has many feminine themes that are beautiful!
Julie Erin Designs Store has over 1,000+ products to choose from! You can pick from accessories, home decor, apparel and more!
Here is a sample of cute and trendy designs from the store:
Watercolour Diamond Pattern Mug
This is an incredible design! As a quick aside, I tried watercolor because I admire the look so much. Have I mastered it yet? Not quite! From my experience, you need a lot of patience to make art this way!
The design has beautiful diamonds in purple and blue! The shading is well done and it really looks as if they are sparkling and translucent!
This gift would be perfect for someone who likes jewelry or the color scheme of purple and blue! 
Beach Sunset Mandala Tote Bag
This next design is an all over print tote bag combining a beach sunset scene with a mandala print.  The duo makes a striking impression!
The mandala is graceful and in a circular pattern that is very delicate looking.
The white mandala really pops out and becomes the focal point of the bag and the beach is very serene.
Wouldn't this make a great beach bag? Who do you know loves going to the beach or just came back from a beach vacation? They would certainly like this! 
Pastel Mandala Pattern Throw Pillow
Last but not least is this adorably creative design for a pillow. If you like mandalas this is your design!
Why just have one mandala when you can have much more!
More is better!
Every mandala is intricately patterned and different sizes.
It's meditative just following the patterns!
This one has a gradient pattern of blues and purples.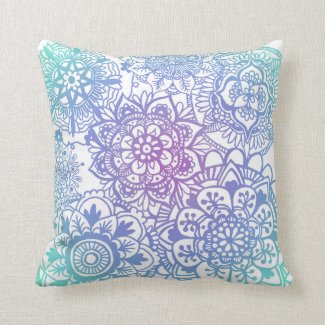 Pastel Mandala Pattern Throw Pillow
If you like this design but want to see it on different products check out the collection called "Trendy Gifts"!  There are so many gift ideas here, make sure to visit.
What do you think about these designs and products?
It's a preview of the abundance of creativity and product selection available in these stores. Visit them today! Thanks for reading this fifth edition of Creative and Chic Zazzle Stores Roundup.
HERE'S A QUICK LINK  ROUNDUP:
Before you go…
This concludes another one of June's Creative and Chic Zazzle Stores Roundup!
Lately, after every post I write, I find that :
It's been really fun discovering what's in the Market Place and blogging about it!
…Have thought about blogging yourself?
If yes, then I'd have to recommend using Siteground because they provide safety along with  speed.
With brilliant and excellent customer service – they know their stuff and are going to help you along the way!
Not to mention, great bargain prices ! Try Siteground today! 
Please share with your friends!
Thanks for reading, browsing, sharing
& thanks for your purchases!
" l i v e  h a p p i l y +  p r o s p e r " – best wishes from Lucky Design World!
Follow on Pintrest!