Modern & Trendy Typography Bonjour, Hello in French Design has an entire collection! 
A trendy, modern typography design to say "hello" in French.
Bonjour en français!…pourquoi pas? (Hello in french!…why not?)
Makes a fun and cute gift for any occasion!
It all started with one typography design:
It was something new: typography. The use, placement of design and arrangement of letters to create beautiful words was an instant favorite of mine! Since then have created many different collections based on typography (in no particular order – the links will open a new tab): Tropical Typography Oahu Hawaii // Personalize Collection, Shine Bright // Diamond + Stars Collection, Love Conquers All Typography//Amour Quote Collection , Aloha Mahalo Typography Collection, Hawaiian Valentines Typography + Hibiscus Floral Pattern Collection, La Vie Est Belle (Life Is Beautiful) Typography Collection,  Tres Chic Minimalist Typography Design Collection, The Heart, a symbol of strength, French Quote Typography Collection, " Read More ", Fun Quote in French, Typography Design Collection, Bon Voyage Classic Bold Typography Design Collection. As you can tell, I love, love typography! It's a wonderful expression of words and to display optimistic messages in Hawaiian or French is certainly a great contribution that these designs deliver!
The Bonjour, Hello in French Collection has sleek font is modern and bold. Plus, it will match with anything. Something to dress up or dress down, it's up to you.
The design is made available on 155 styles and 7 different products!
It's perfect minimalist design!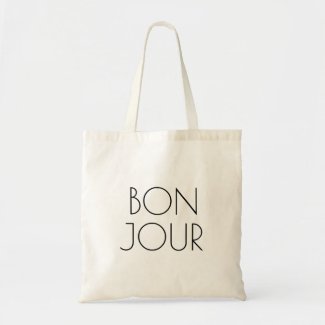 Bonjour, Hello in French
A cute tote to carry books or anything!
Bonjour, Hello in French
Dress up your letters with a french expresion: Bonjour!
Bonjour, Hello in French, Coffee Please
Have coffee and know how to order it in french! (it's on the reverse side) visit the link to see more!
Bonjour, Hello in French
 A chic cover for your laptop!

Bonjour, Hello in French
Practice French conjugations with this notebook or it makes a great gift for a student of French!
Bonjour, Hello in French
A modern, minimalist design for your iphone
Bonjour, Hello in French
A simple, sophisticated design for work essentials.
Bonjour, Hello in French
Have your postage in French !
Thanks for reading, browsing, sharing
& thanks for your purchases!
" l i v e  h a p p i l y +  p r o s p e r " – best wishes from Lucky Design World!
Follow on Pintrest!